2015 Champions | San Jose
Artist, Muralist, and Seamstress; Erin Salazar was raised throughout the Mojave Desert of southern California. She studied Fine Art at San Jose State University, graduating with a BFA in 2010. Since leaving School Erin has been putting up murals, making her own custom stitched creations for private sale, and working on beautification projects around the bay area. Late last year, as a result of the Knights City Challenge Grant, Erin decided to put into motion a plan she has been plotting since started a public arts and muraling program at SJSU: Advocate for artists right's to get paid professional wages for professional work and combine an effort to erect large public murals with the goal of building tangible economic opportunities for creative people. Thusly in March of 2015 the Exhibition District was born.
Erin is ecstatic to be given an opportunity to build on her message of creative advocacy and use this to challenge the status quo of established arts world. Her dream is to take the word 'Starving' out of the artist's industry.
Project Summary: Promoting local arts and culture through the Exhibition District, an artist-initiated effort to develop over 40,000 square feet of murals in the heart of downtown.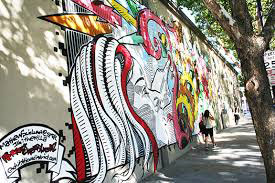 The Exhibition District is a wildly ambitious, artist-initiated effort to erect over 40,000 square feet of murals in the heart of downtown San Jose. We aim to curb graffiti, beautify streets, instill civic pride, and create a free, outdoor public art gallery of high quality murals. Igniting and stimulating these otherwise forgotten public spaces with artwork keeps artists employed, engaged, and local. Additionally, the physical nature of murals requires creatives to be on-site communicating and interacting with the community.
https://www.facebook.com/ExhibitionDistrict