2015 Champions | Charlotte
Growing up in St. Louis, Missouri for 20 years, I never imagined I'd land in Charlotte, North Carolina only 10 years later by way of Chicago, Beijing, Cairo, Johannesburg, Lusaka, Maputo, Seattle, Columbus, and Detroit. In all of those places, ironically, I came to value planting roots and creating super-local neighborhood connections, the kind you have when you actually have real conversations (and build real relationships) with the people that live right next door, a concept forgotten/dismissed by so many in today's urban centers.
I earned my bachelor's degree at Olivet Nazarene University in Political Science and History, served in volunteer service abroad, and then studied at the Seattle School of Theology and Psychology under great community-minded professors. Now, with a family that has landed (hopefully for good) in Uptown Charlotte, I'm trying to build and facilitate real relationships with those around me yet again, as well as hoping to bridge gaps in our diverse Uptown neighborhood. My wife Abbey teaches in the Charlotte Mecklenburg public school system, and I'm a full-time dad to our 2-year-old daughter Lily while serving as Organizer for the Queen City Supporters and Social Chair for our First Ward Neighborhood Association board. Go Hornets.
Project Summary: Fostering community connections and attachment through Small Town Uptown, a project that includes local meet-and-greet events, social media engagement campaigns, and door-to-door surveys to get people involved in local issues.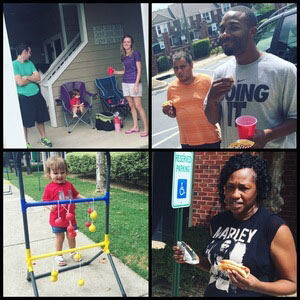 Small Town Uptown seeks to bring the connectedness of the "small town" to Uptown Charlotte, North Carolina. Through door-to-door surveys, meet-and-greet events, and the use of social media, Small Town Uptown brings together neighbors with similar interests, utilizes and makes available the skills inherent in a neighborhood, and helps weave the social fabric intrinsic in small towns into the downtown urban environment. Modeled on the Abundant Community Initiative in Edmonton, Small Town Uptown can turn First Ward into a true *neighbor*hood.